MONSID is one of six Washington State proposals funded through NASA's SBIR Program
Published: July 1, 2020
Last updated: June 15, 2022
Okean Solutions is delighted to announce we have won a contract through NASA's Small Business Innovation Research program, or SBIR.
We appreciate the confidence in the MONSID technology and in Okean that is represented in receiving this award.
Here's an excerpt of the June 30, 2020 article at NASA.gov

:
NASA Invests $51 Million in Innovative Ideas from US Small Businesses

"NASA depends on America's small businesses for innovative technology development that helps us achieve our wide variety of missions," Jim Reuter, associate administrator for NASA's Space Technology Mission Directorate, said in a news release. "Whether we're landing Artemis astronauts on the Moon, sending rovers to Mars or developing next-generation aircraft, our small business partners play an important role.

Companies will receive up to $125,000 for each of the Phase I selections. SBIR awards are made to only a small business, while STTR awards are made to a small business in partnership with a non-profit research institution.

The selected proposals represent a range of technologies that aim to benefit human exploration, including NASA's Artemis program, as well as science, technology, and aeronautics. Many of the innovations also have potential applications on Earth.

NASA's SBIR/STTR program is part of the agency's Space Technology Mission Directorate and is managed by NASA's Ames Research Center in California's Silicon Valley. The program encourages small businesses to develop innovative ideas that meet the federal government's specific research and development needs with the potential for commercialization.
Read the full story at NASA.gov...

Okean Solutions Proposal Summary - Model-based Fault Diagnosis for Ground and Propulsion Systems
Technical Abstract
The Model-based Off-Nominal State Identification and Detection (MONSID) system provides robust and reliable fault management capabilities. MONISD is a relatively compact software package because it relies only on modeling nominal behavior; fault models are not needed. The technique identifies the hardware element that is the cause of the detected fault thereby enabling more targeted recovery/repair response. MONSID supports autonomous operations technology requirements to reduce operations and maintenance costs and minimizes human in the loop intervention.
MONSID provides an evolutionary approach to full onboard autonomy as it can first be implemented and tested in ground-based systems and then migrated to off-world remote operations. Autonomous fault management will be crucial to NASA mission success particularly during critical times where the situation changes rapidly and unpredictably with no opportunity for operator support.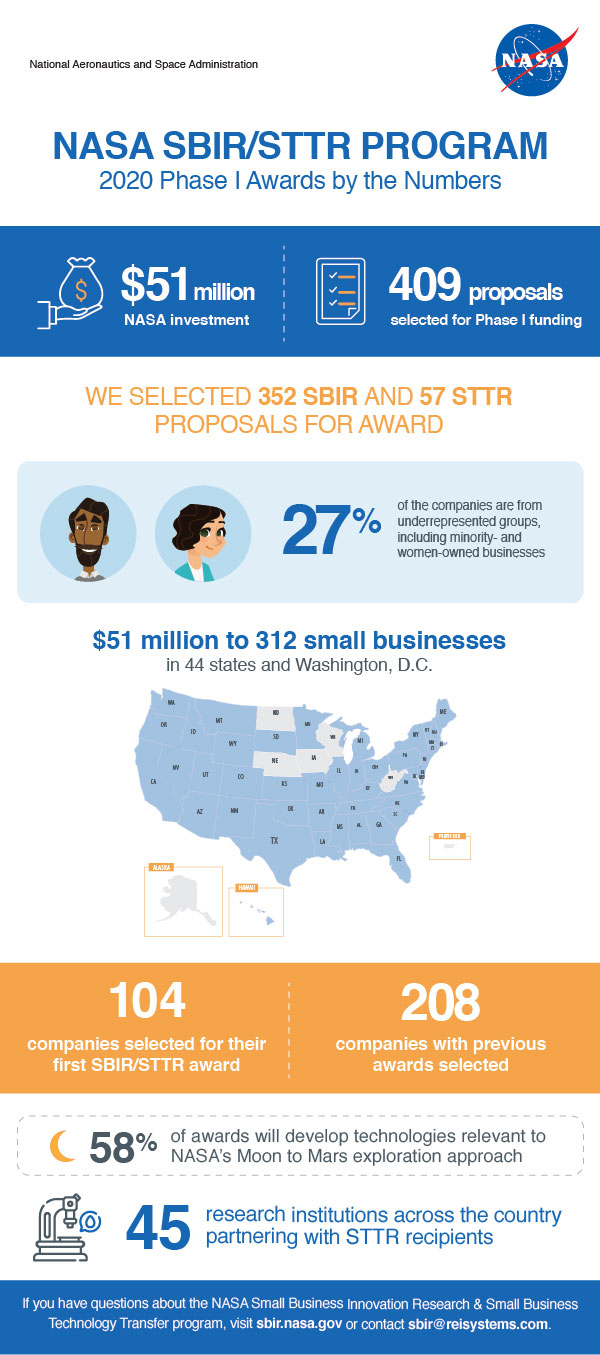 NASA has selected 409 technology proposals for the first phase of funding from the agency's Small Business Innovation Research (SBIR) and Small Business Technology Transfer (STTR) program. Credits: NASA
Potential NASA Applications
MONSID propellant management models could be used at NASA KSC's cryogenic test lab and SSC's high-pressure gas facility. Propellant management monitoring using MONSID can support current and future programs, providing autonomous fault detection and identification at on the ground, in-flight, and in I&T, as well as in training and recovery operations. It is applicable to a broad range of NASA operational and test facilities as well as missions including Artemis, Gateway, Orion, SLS, from near-Earth to off-world, risk-adverse, and experimental.
Potential Non-NASA Applications
This technology is well suited for systems with modular hardware or software architectures. These new architectures will require updated model-based autonomy-enabling approaches to support them. It improves situational awareness in AFRL/DoD missions, and can be leveraged by large and small prime contractors, FFRDCs/UARCs, and non-US aerospace organizations.
View the full Okean / MONSID proposal summary at SBIR.NASA.gov...

Tags: SBIR, NASA, MONSID, small business, innovation, technology, fault management, autonomous fault management